Estie Raven: A First of Its Kind

Ravens have long held an almost mystical fascination in the human psyche. From Edgar Allen Poe to Norse mythology, depictions of ravens have long interested our storytelling.
 
Because of this history, Esterbrook was inspired to create a pen that has all of the subtle, mysterious charm of the intelligent and curious corvid. Introducing the Estie Raven. With its matte black body and matching nib and trim, this pen is as stunning as it is simple, as intriguing as it is classic.
 
Most exciting of this release is the button piston mechanism for the Raven release. With a simple press, you can fill your pen for an easy, mess-free experience. This is the latest in a suite of new innovations from the brand and we are excited to debut it with the Raven! But don't worry – if you're more familiar with the traditional cartridge/converter, we have this offering on the pen too!
Embrace the enigmatic charm of the Raven with this Estie and be inspired to write your own story whenever inspiration strikes next.
Introducing: The Button Piston
If you've been a longtime collector of Esterbrooks, then you'll know that our fountain pens use a cartridge/converter mechanism to fill with ink. Now, we're excited to share the first of its kind: the button piston. With a few simple presses, you have an easy, mess-free filling experience. Made exclusivly for the Raven -- and for you.
As with all Esterbrook pens, you're getting unparalleled quality while having a pen that meets your every need. The Estie Raven includes:
A special black-edition Jowo #6 nib in EF to Stub 1.1 for your personal writing style

Rollerball and ballpoint options

Matte black finishes that are durable as they are stylish

A demonstrator-style ring is included on the button piston model

A cushion-cap closure so your nib is ready to write the second inspiration hits you

A comfortable barrel-shape design that's perfect in the hand for longform writing

A dedication to heritage design with contemporary quality standards to make each Estie an instant heirloom for your family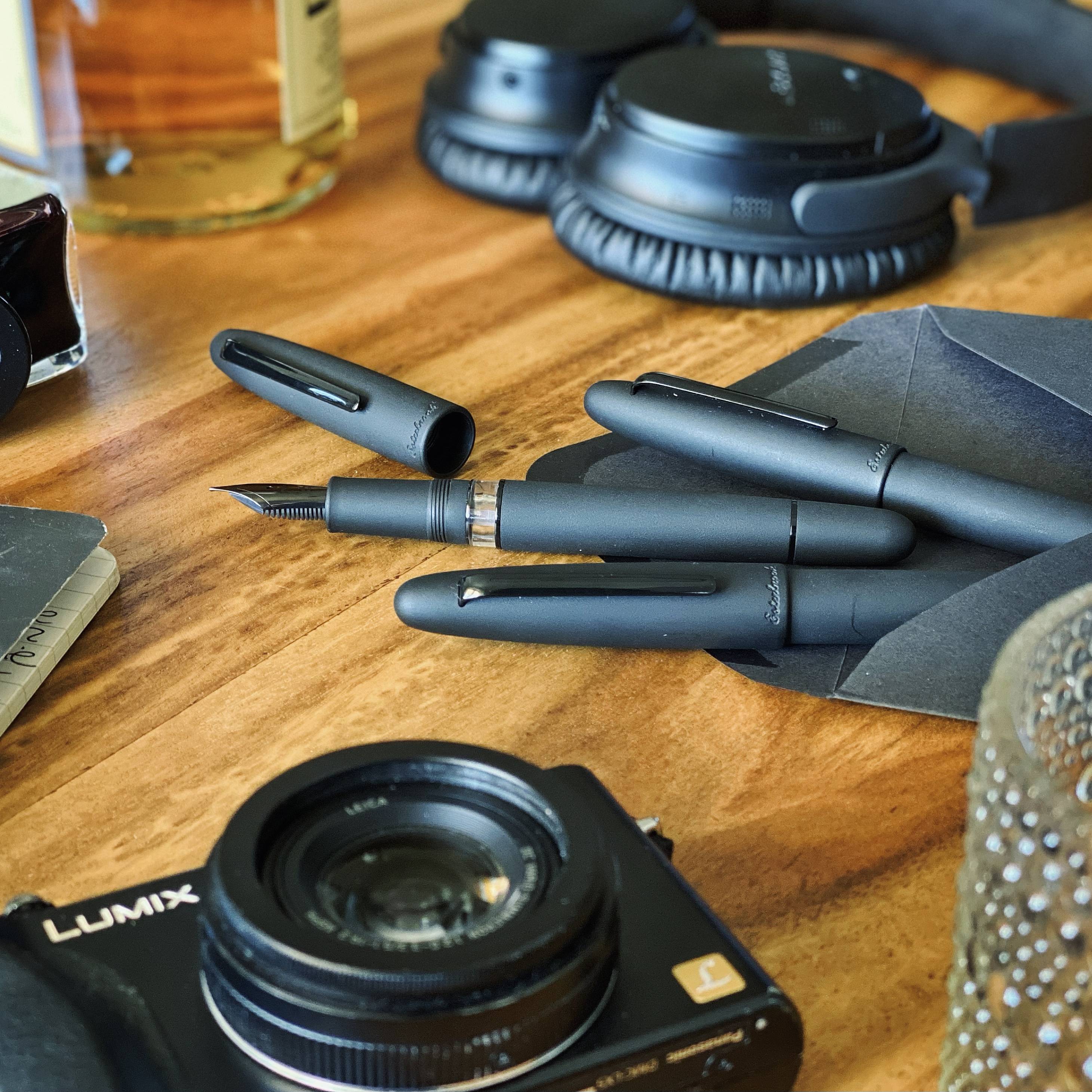 Introducing Anne Nossack, the brilliant artist behind the artwork in our new Raven edition! Anne hails from the picturesque city of Hannover, Germany, known for its blend of history and modernity, making it a fitting backdrop for her creative endeavors.
Anne is not only a gifted bookbinder but is also deeply immersed in the world of conservation restoration for papers and books. Her passion for preserving the written word and her artistic sensibilities shine through in every piece of her work.
We crossed paths with Anne earlier this year, and we couldn't be more thrilled to collaborate with her for this special writing collection. Her unique talents and dedication to craftsmanship make her the perfect artist to bring the Raven edition to life.
Anne was kind enough to produce three images which have become the design used for our latest set of blotting paper. The designs can be seen below and you can now get your blotting paper here; or for free for the month of October with the purchase of any pen!