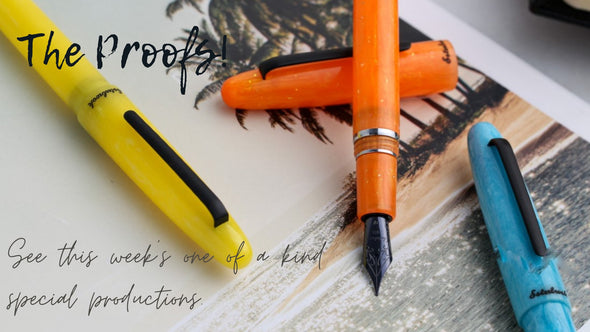 Behind every new Estie is a months-long creative journey. First, we begin with an idea. From there, we work with artists to create a variety of colors and patterns to make our vision come to life. While we have had many successful series over the years, not every Estie prototype we produce makes it to market.
And that's where The Proofs come in! These below Esties are artists' renditions, first releases, and never-before-seen colorways that never made it to a larger production. Many of these pieces are, quite literally, one-of-a-kind.
Many of the models can be fitted with any size nib of your choosing (EF, F, M, B, Stub). Once you place your order, please email us with your order number to confirm which nib you would like.

Note: this does not apply for the black nibs, which are only available in medium.
To find out more, click on the Esties below and read their descriptions.
Sorry, there are no products in this collection